I had the good fortune of meeting up with Ayesha Toor Yesterday and what a meeting it was!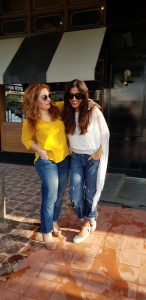 She is earthy, sensual, down to earth and soft spoken. A complex and enticing combination that had me totally fall in love with her.
The first thing I noticed about her was the beautiful but understated double nose piercing she was rocking and slowly over the course of the next couple of hours I realized that she carried everything from her beauty to her charm to her considerable intellect with humility and quietly so the more time you spend in her company the more you realize what a great person she is.
Personally I like people who have definitive ideas and know their mind. Ayesha has the ability to express her ideas, which ranged from love to economics to movies to life in general, in very few words and yet with a precision that had me wondering.
Even though we spoke about fashion, acting, modelling and the Pakistani Media Scene but my takeaway from our time together was more focused on how beautiful and deep her insight on life actually is. Dabbling in a little teaching and mentoring Ayesha was pretty excited about some of her upcoming academic projects and had quite a chat with my 18 year old who had joined us for lunch after college.
A beautiful person inside out I can't wait to see her again!