Ingredients:
Lasagne Strips
Shredded Cheddar Cheese
Shredded Mozzarella Cheese
Powdered Parmesan Cheese (Optional)
Black Olives
For White Sauce:
Butter
Oil
All-purpose Flour
Chicken Stock
Milk
Chicken Cubes
Sliced Mushrooms
Black pepper & White Pepper
Dried Oregano, Thyme & Rosemarry
For Red Gravy:
Lots of crushed garlic
Mince Chicken (1/2 kg)
7-8 Tbsp of Tomato Purree
Crushed Red Chillies
Dried Oregano, Thyme & Rosemarry
Green Chillies (Julian cut)
Black pepper & White Pepper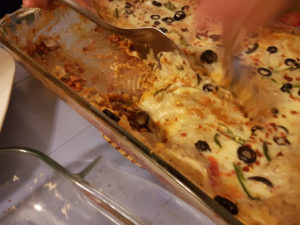 Receipe:
Boil the Lasagne stripes, adding a bit of oil to the water to avoid them sticking together. Keep Aside.
Prepare the white sauce:
In a wok, add some butter and a bit of oil (Tip: Butter alone burns quickly), then add all-purpose flour to it, keep
cooking it in butter until the flour changes a bit of color. The consistency should be a bit thick, then remove from
stove and add chicken stock to it (Tip: You can save time & ingredients by simply making the stock from 2 chicken
cubes & add the same at this point). Make sure you stir the spoon quickly to avoid any lumps forming. Add in milk
also at this stage, ensure the consistency of the white sauce is neither too thick nor too runny. Add sliced
mushrooms, salt, black pepper, white pepper, oregano, thyme & rosemary. Set aside.
Prepare the chicken mince in Red Sauce:
Take oil in a wok and add crushed garlic. Once the garlic becomes brown, add chicken mince, tomato paste, red chili
flakes (I prefer it very spicy), black pepper, salt, white pepper, oregano, thyme & rose marry. Add water also and let it
cook until the mince is tender cooked & oil comes on the sides of the pan. Add green chilies.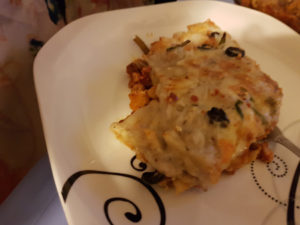 Lasgna Layering:
Take the oven dish you want to bake your lasagna in. Grease it using some butter/oil. Now start layering.. Lasagne
Strips – Red Sauce – Lasagne Strips – White Sauce – Cheddar, Mozzarella & parmesan Cheese, olives, green chillies
& some Red Crushed Chilies.
Bake until your cheese is evenly melted and brings out a nice Golden color.
TADA! Lasagna is ready to be served!
This Recipe is courtesy of: Madiha Zubair
A proud Mom! A Workaholic! A Dreamer & A Foodie!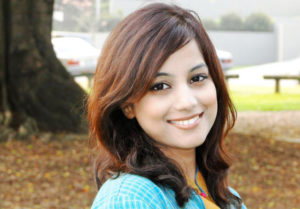 Search Keywords:
Lasagna | InternationalCuisine | Recipe | GuestBlogger  | Blog | Blogger | International | Cuisine | Kitchen | SursKitchen | GuestRecipies | Lifestyle | WhiteSauce | Sauce | RedSauce | RedGravy | Gravy | ChickenMince | LasagnaLayering | Cook | MadihaZubair