An Adventure with Plum Hair
Yeah Yeah I know I talk about my hair a little too much but you've got to admit that a change in hair color can be
quite an adventure and quite the morale booster too.
So I set out to go see my hair stylist Aphey for a root touch up which she refused on the grounds that the roots were
negligible and seeing how despondent I was she gave me a 1 week make over.
Guess what? In 25 min I went from being a sophisticated ash blonde to looking like a crazy berry smoothie.
BUT I LOVED IT!
It brought out the teenager in me! All the awe I had for the mind blowing cool "Punks" who dominated the late 80's
early 90's scene and who could never be emulated in my culture and country came crashing back and all of a sudden
I was totally lit up with excitement.
So amid screams of horror from my mom and derisive snorts of my brother I embarked on rocking my crazy giddy
pink purple hair for a week!
Below I am pasting pix of my happy excited week and believe me I had a ball with my hair!
So all you repressed souls go out and give yourself an adventurous week or a month or even a year!
Go for a short term fling or a long term love affair with a new hair color and rock it!
Day 1: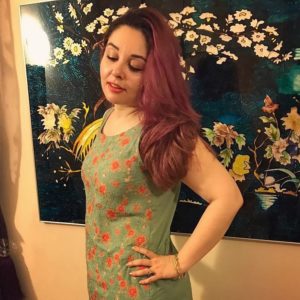 I rocked my plum hair with a nude makeup look and my fav Bareez'e Jorra.
Bareeze being versatile as a both appropriate for day
and evening wear to say nothing of colors that blow your mind.
I kept my jewelry  to a minimal as it was my first day with the color
and I was testing the waters
Day 2: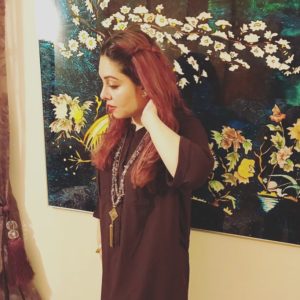 I decided I didn't really need a nude canvas for my hair so rocked a deep
Burgundy top with a whole lot of bling.
Not only did I jazz it up with the necklaces and some
glitzy bangles I also wore a coral lip color.
Day 3:    
Just a trifle bolder I got. I rocked my hair with a neutral grey Khaadi ka
jorra but heavy
eye makeup and a matching lip gave me a confidence boost for the day.
I also experimented with Beach waves for this day.
Day 4: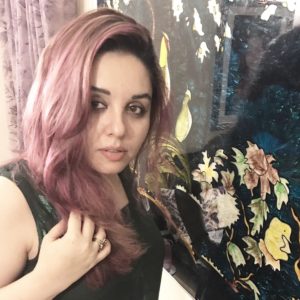 Yippee it's the weekend so I chose to wear
a hand painted chiffon deep green kurta with
Michael Korrs heels and my sapphire jewellery. The lips went nude but
the eyes I jazzed up with this great green shimmer
I picked up from Nars on my last trip.
All in all I had a fabulous day! So Girls go for it!