Cute, funny, silly, engaging, childish, mostly juvenile with some definitely entertaining moments and with a message that is endearing because it really is the need of the hour for Pakistan…..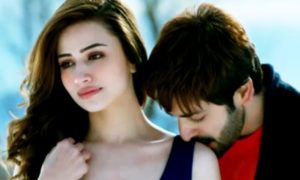 Mehrunisa V Lub U

Is all of the above and then some.
I won't say I wasn't a little disappointed.
Frankly I was expecting a much better executed movie from Yasir Nawaz.
However most of the humor was forced and certainly not spontaneous. (what you see in the promos is about all you get in the movie). Whoever did the wardrobe needs to be brought down to City Karachi. And the main protagonist of the movie Mehru is the least developed character.
Khushi the transvestite henchman of a Mafioso who is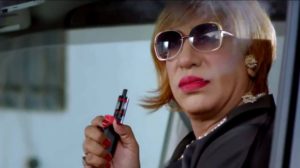 also a politician did an outstanding job!
Nayyer Ejaz shone in his portrayal even though he could
have done without the weird lakalakalakalaka he was forced
to enunciate throughout the flick.
Well Done Nayyer for giving such an unconventional twist
to such a stereotyped character.
The two main characters Mehru (Sana Jawed) and Ali (Danish Taimoor) have a nice chemistry and shone brightly as a beautiful couple very much in love. Javed Shiekh of course needs never be endorsed as he did as always give a stellar performance.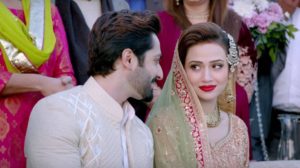 The only objection I had to the entire movie which I deem kind of unforgivable is the fact that when the Mohalla does a clean act they end up looking like some European village instead of a corner in Karachi main city. We really need to get over the Gora Complex and that is one mistake Yasir Nawaz should not have made.
The tunes were very catchy with most of the songs sporting good lyrics with Marhaba and Tu He Tu in the forefront. The choreography seemed a bit forced at times but the songs sat pretty well and are quite easy on the ears.
However despite the conspicuous and not so conspicuous flaws I think that in the last few years Pakistani cinema has come a long way and the movies should never be compared to their counterparts who are decades of experience ahead of us.
So all in all it was a nice effort. The social message it intended to pass is a much appreciated effort and hopefully the predecessor to better movies from Yasir Nawaz and his team in the future. Do share your thoughts!
Caution:
If you intend watching it with your family please know it has some pretty pointed sexual jokes!
Search Keywords:
MovieReview | MehrunisaVLubU | YasirNawaz | Karachi | Sexual | SexualJokes | Mehru | Khushi | Mafioso | NayyerEjaz| SanaJawed | Ali | DanishTaimoor | JavedShiekh | Mohalla | EuropeanVillage | GoraComplex | YasirNawaz | Marhaba | TuHeTu | PakistaniShowbiz | Showbiz | Desi | DesiMovies | Reviews | Pakistani | PakistaniMovies | DesiScenes | Movies | Lollywood | LollywoodMovies