Zeeshan the photographic genius behind Yellow Jacket Studios counts all the Big Brands as his customers….
From J. to Ideas…
From Al Karam to Swarovski…
Shamael Ansari, Ismail Fareed, Libas to Hello Magazine…
This guy has worked with all the top Brands that there are to work with and counting.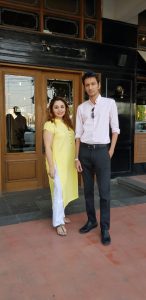 I've known him for some time now as I used to approach him for most of my Corporate Client needs. And even though I always knew he was good and had a strong portfolio even I did not know the true extent of his accomplishments till we didn't meet up for lunch recently.
Zeeshan who is soft spoken, humble and very very down to earth is an easy to talk to person. Incidentally I found out about his client list only when I specially requested to know whom he had worked with over the past one year. Otherwise all he had said was …
"Oh I have some nice Brands I work for"
….. yeah right!
Moving on I have also had the good fortune of being on the correct side of his camera recently for various Beauty and Fashion Shoots.
Even though I am becoming more comfortable being in front of the camera then I was initially but I still struggle sometimes. Shooting with Zeeshan Ahmad however is like a dream! He hardly takes anytime, constantly chats away with a minimal of instructions and more of encouragement and viola before I've even had a chance to settle down the shoot is over!!!
Just like that in a few days a gorgeous series of pictures that makes my jaw drop comes in my email and I really wonder how he captured that so quickly and so effortlessly on film! He just seems to has an eye for what he wants out of a face and a background and with the barest hint of an effort he's done! Must be the fact that he has studied Media Sciences and so has a holistic idea of what a picture is supposed to say.
No wonder the brands all queue up outside his studios!