Apple Pie Recipe
This apple pie recipe that I am sharing with you is an old fashioned one that I inherited from my mom!
A little tough but it's certainly worth it.
Ingredients:
For the filling
Green apples diced 1 kg
Butter 6 tsp
Sugar 1 Cup
Flour 3 Tbsps.
Lemon juice ¼ Cup
For the Crust
2 Cups Flour
1 Tsp salt
¼ cup ground sugar
1 Cup Frozen Butter/Ghee
Ice water
Method:
For the Crust
Mix the dry ingredients in a bowl thoroughly. Now start peeling the butter with a knife into the bowl. Once all peeled start kneading the mixture till its starts to form a dough like consistency. Add a cube or two of ice in the dough while mixing to make sure the butter doesn't melt as the dough needs to be hard but pliable. You can add a little ice water if kneading becomes difficult.
Once the dough is ready take a rolling pin and divide the dough into two parts. One part to begin with should be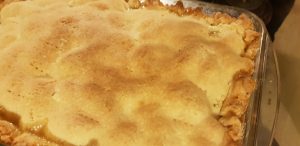 enough to cover the sides and bottom of the dish. The dish should be about 12 inches in diameter with about 3 inches depth. You can however use whichever dish you think will be easily able to take the oven heat.
Use a rolling pin to spread the dough and ensure while you are rolling it out it does not have any cracks. Once your dough is rolled out enough to cover your dish use a spatula to remove the edges from the rolling board. Now put the rolling pin on one side of the dough and start rolling the dough on top of the pin. Making sure you keep lifting the dough with the spatula so it doesn't break. Once you have all the dough rolled onto the rolling pin roll it out on the dish. Mix together all the ingredients of the filing and dump them in the crust lined dish.
Now take the remaining dough and roll it out similarly. Cover the top of the dish with the crust. Pinch the sides of the crust together to seal the pie and to take away any extra dough. Take a fork and pierce the crust with it so the steam while backing can escape the pie.
Preheat oven to 120 degrees 30 minutes before baking and bake the pie for 45 minutes on even medium heat. After 45 minutes check that the pie is evenly backed from all ends and then bake the top for 5 to 10 minutes or till evenly baked
Serve piping hot with Vanilla Ice cream.
Pro Tips
If you have a party at home you can make this uptill 48 hours in advance and refrigerate before baking