Aloo Keema Anyone?
And surely we go on a quest for new dishes to cook and feed to those we love with our experiments.
Feeding your kids being the most difficult actually and mamas on a constant quest to make them fun healthy food.
But so many times it's the middle of the week and there are tons of work to be done and you do so want to make
comfort food and that too in a jiffy!
In comes our all time favorite desi Punjabi dish! Aaloo Keema!
(Mince meat and potatoes)
I'm sharing my mom's recipe that I have always used to as my go to if I needed a quick filler dish to a dinner table
that has last minute guests or for those days when I want to cook something easy and fast.
Ingredients
Chicken Mince Meat: thawed. ½ kg
Potatoes: 2 medium peeled and diced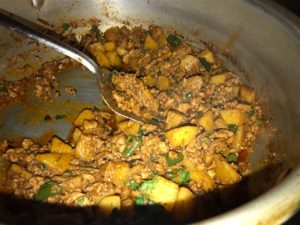 Ginger: 2 inch long piece cut in long thin strips
Garlic: 6 cloves Crushed
Green Chilies: 6
Black Pepper corn
Tomatoes: 3 large blended smooth
Onions: 2 Chopped
Oil
Salt: To Taste (I use about 3/4 teaspoon adding more in the end if required)
Red Chili Powder: To Taste (I use 1 ½ teaspoon)
Turmeric Powder: To Taste (I use ¼ teaspoon)
Method
Take a wok and heat oil before adding the chopped onions and pepper corns to it.
Sautee till onions are light brown and then add the crushed garlic. Add 1/2 cup water and then salt,
red chilies and turmeric powder. Add the mincemeat and cook for 5 minutes and then add the
potatoes and the tomatoes together. Now cook this well for at least 10 minutes so that tomatoes
form a gravy and the potatoes take on a rich red roasted look and flavor.
Add the green chilies and check the potatoes. As they are often likely to be slightly under cooked.
Add half a cup of water and simmer on a low heat. Check the salt to perfect the taste
Tips
You can add Chopped coriander leaves before serving as garnishing If your family likes spicy food you can also
garnish with mixed ground spices (Garam Masala Powder).
Serve this with Buttered roti or roti with some olive oil to impress your guests or for growing children.
Serve with white boiled Rice for some Pizazz.