I have always been big on home remedies or totkas as we Pakistanis refer to it generally. All my life I have always
listened carefully to the other generation when they discuss their remedies or when they advise one another on
problems being discussed.
To the tips I picked up all these years I added my own experiments to see how I could customize solutions to my end
and my life is full of such paraphernalia.
One of the oldest remedies I have been using from my mid-teens is the use of Phitkari better known as Alum in
English. This is a must have in my storage cabinet and my washroom at all times. I am sharing the uses that we can
put this miracle to below for my readers
Liquid Form: Prepration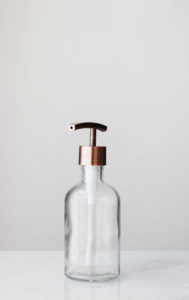 The easiest way to use Phitkari is to make it into a liquid form.
Take a bottle (preferably pump top. You can recycle an old
shampoo or hand wash bottle by soaking it overnight in
detergent or dish-washing-soap and wash and air dry it the next
day)
Add water to it preferably mineral or boiled and add Phitkari
chunks to it. I break it up with a hammer before mixing as
usually the chunks are bigger than the mouth of the bottle.
Let it rest overnight and your Phitkari solution is ready. You
will see that for weeks after there are chunks of Phitkari in the
water. This should not be a problem as the stronger the
Phitkari water the more effective it is.
Add about 25 grams of Phitkari to 500 ml of water
Tip:
Use about 50 grams of Phitkari and keep replenishing the water. The Phitkari mixture will be strong and water
can be added to it from time to time till all Phitkari does not dissolve. After that you can add more Phitkari or finish
the solution and clean the bottle again before use.
Uses:
Phitkari is absolutely the best natural deodorant to be had. Apply the solution just like deodorant at the end of your bath and spend the entire day in confident comfort. For ladies I would suggest that you add a table spoon of Coconut oil to the solution also as that will leave you with a sweet smell and whiter underarms in the long run. However be cautioned that once you add the Coconut oil to the solution then this particular bottle can be used as your deodorant only. It is ill advised to use it for any of the other remedies listed
Alum has always been renowned for its natural antiseptic qualities. Keep a bottle of the solution as described under preparation in your washroom. It is excellent for minor cuts, abrasions and scrapes. Even for deeper cuts this is my go to as its stops the bleeding almost immediately.
Long term hair removal is another benefit of Phitkari. It is a must use right after waxing or threading. Use it on your upper lips right after threading or on body parts that have just undergone the waxing procedure. Not only will it discourage any unwanted abrasive pimples but will also hamper hair growth so after a few months only you will feel a drastic reduction in hair growth. Also sometimes we have a few stubborn hair on a part of our face. Just ensure you slather that hair root with this solution after every removal and the hair will disappear in a few months altogether.
Acne? No worries. Just take a drop and put on your pimple and in a day or so the pimple will disappear. Do it a few times every day. If you are like me and have to pick every white or blackhead on your face well follow it up immediately with Phitkari to avoid inflammation or infection.
Blisters in the mouth? Sore gums? Just rinse your mouth with the Phitkari solution after you have brushed the teeth for the night and you will wake up with a mouth without any issues. Only downside is the aweful aweful taste of Phitkari. So best is to rinse your mouth when you know it's time to hit the bed
I hope that the list above will be of some benefit to my readers. In case you have experience with other remarkable
uses of Phitkari also do share them on this forum.
Search Keywords:
Phitkari | PhitkariAlumAndItsUses | PhitkariAndItsUses | AlumAndItsUses | Alum | Lifestyle | Beauty | BeautyTips | LifeHacks | Ramblings | Tips | BeautyCareTips | CareTips | KitchenTips | SkinCareTips | HairCareTips | HomeRemedies | Totkas | DesiTotkas | DesiRemedies | Pakistani | TeamTvinkal | English | Detergent | DishWashingSoap | BestNaturalDeodorant | NaturalAntiseptic | LongTermHairRemoval | Waxing | Threading | AcneRemover | PimplesRemover | BlistersInMouth | SoreGums | BrushedTeeth | Teeth | WhiteTeeth | Forum | Blog