The sense of smell, so underrated and yet so powerful. The aroma of our favorite food cooked. The scent of that special someone. The clean and powerful scent of the outdoors. The salty smell of a beach. The scents around us are everywhere and whether we are the kind of person who disregards this sense and only touches upon it when buying a perfume or the kind who even smells their day creams and shampoo, we are all invariably effected by its pleasant and not so pleasant effect on us in our daily lives.
I for one have always had a passion for perfumes and deeply adore people who care to surround themselves with a nicely scented atmosphere. Since I realized very early on that air fresheners are extremely harmful I turned to pot purri but soon realized that they were very short lived. From experimenting with making my own pot purri to burning oils I happened to stumble on scented candles a few years back and discovered them to be my one true love.
The old age romance of burning candles and the ambiance it creates in any given situation is priceless. Add to that a lingering scent in the air hours after you have put out the candles and it's a winner. From using candles around the house and the dinner table to give a more inviting aura while entertaining to burning them in your washroom during a long hot soak and in your bedroom for pleasure the scented candle is absolutely versatile.
My personal favorite is the brand "Bath and Body Works" and my preference of these candles results in extremely heavy luggage whenever I'm traveling back from a country where these are available. Pakistan now has a number of stores that offer imported candles and quite a few entrepreneurs doing good work in this field so you have a choice of both imported and home grown products.
So go out there get one for yourself and give it a try. I'll bet you will be as hooked as I am!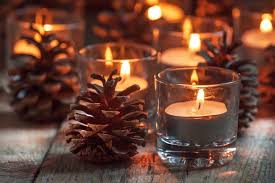 Search Keywords:
PersonalStyle | TheRomanceOfCandles | Lifestyle | Interiors | Trends | Romance | Candles | TeamTvinkal | People | ScentedCandles | Age | BurningCandles | CandlesRomance | BathAndBodyWorks | Style | PakistaniPersonalStyle | PakistaniTrends | Pakistani | Desi | International