Once again our Pakistani girls are making our world rock with their accomplishments!
This time it's the teenage girls of Fatima Jinnah Government Girls School in Karachi who are getting all
the attention with their consecutive victories in the game of chess against boys from a prestigious
private school BVS Parsi High School.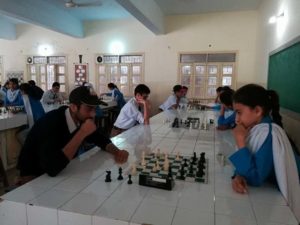 The team of girls from SMB won 6 out of 8 games
against the boys in a friendly match recently held in
Karachi. The star player of the team Maleeha Ali easily
outsmarted her opponent by 24-4 points securing the
victory.
The boys admitted that the girls always give them a very tough time. Apparently this isn't the first time
as they have already earned themselves the title 'Queens of Karachi'!
Part of the reason why the girls are really good at chess is because it is a compulsory subject for the
girls in the school who are in grades 4-8!
They are being trained by Pakistan's former international chess master Shahzad Mirza who also keenly
promotes the game in schools across Pakistan!
Well done girls!
So proud of you!